UK upgrades ties with Israel
The move will serve the UK's wider interests in the Gulf and Middle East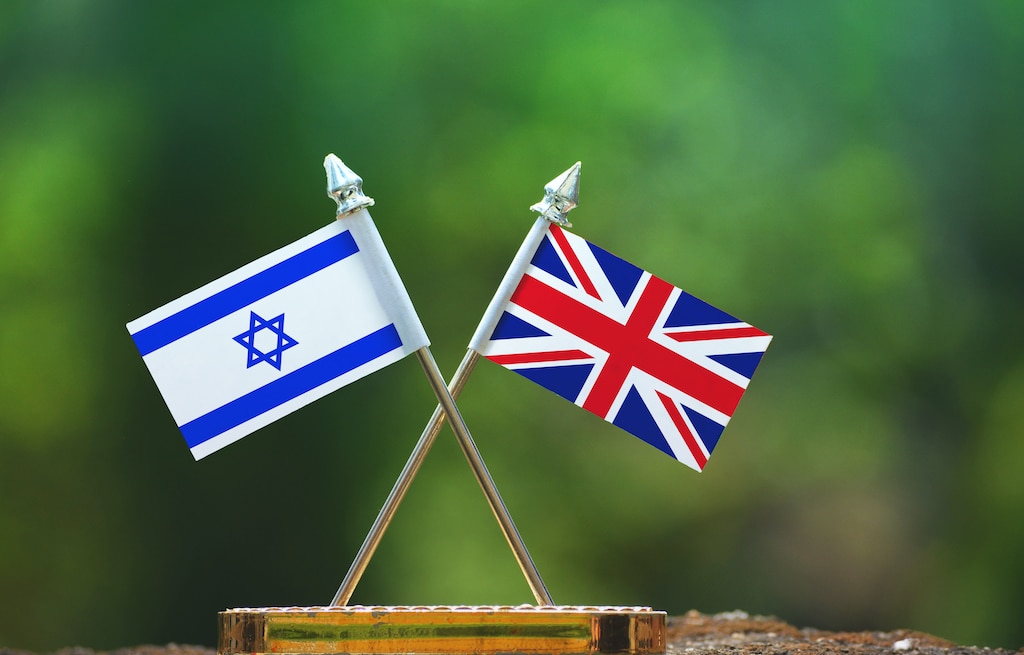 Neil Quilliam, Managing Director & Head of Strategy; Alice Gower, Director of Geopolitics & Security
Originally published by World Politics Review, August 29, 2022
Last month, UK Trade Secretary Anne-Marie Trevelyan launched negotiations with Israel to establish a new, innovation-focused free trade agreement. The UK has always attached high priority to its bilateral relationship with Israel, but ever since Brexit, it has invested considerable time and resources in reenergizing those ties, as part of its wider ambition to project influence on the global stage and strengthen its capacity to meet rising threats. However, this has resulted in a shift away from the country's historical foreign policy positions, particularly toward Palestine – a trend that will only become more significant as the leading contenders in the UK prime minister race seek to distinguish themselves from their predecessors and the EU.
The new trade agreement builds off a memorandum of understanding signed by the two countries in 2021, in which they pledged to develop a "UK-Israel Bilateral Roadmap" to improve cooperation and collaboration in key areas, such as innovation, defence, development and climate change. Downing Street is also particularly interested in projecting influence in the Gulf region. Towards that end, it has aimed to encourage a further normalisation of relations between Israel and member states of the GCC, by leveraging its position as a historical partner to all parties. This follows the signing of the Abraham Accords in August 2020, which formally established diplomatic relations between Israel and the UAE and Bahrain, facilitated by the US.
By pursuing broader normalisation, the UK seeks not only to play a key role in shoring up a new regional security framework capable of countering Iran, but also to ensure that London is well-positioned to capitalise on any new economic opportunities that arise from normalisation itself. Moreover, it is keen to take advantage of Washington's decreasing involvement in the Middle East and shift in focus towards Asia, picking up any slack left by the US so that all bases remain covered.
Strengthening bilateral ties with Israel serves the UK's wider interests, not just in the Gulf, but elsewhere in the Middle East, such as in Egypt and Jordan.
Given this context, it's not surprising that the UK has taken steps to reinvigorate its partnership with Israel and make it fit for purpose in a changing global environment. The UK is Israel's largest trading partner in Europe in terms of exports, and the third-largest in the world in terms of both exports and imports. In 2021, the volume of mutual trade in goods and services between the countries was estimated at approximately £5.4bn, or $7.7bn.
The initial foundation for this trade dynamic was a 1995 agreement that provided for tariff-free trade, predominantly for exported British goods. But the current trade arrangement was inherited from the EU following the UK's withdrawal from the bloc in 2020. Today, London is not only eager to negotiate a new deal in line with its current national interests, but also to make clear that its policy position on Israel differs from collective European thinking. The EU's stance on Israel, which prioritises a two-state solution, has often been criticised for leaving no room for manoeuvre.
Supporters of Brexit within the Conservative Party, such as former Prime Minister Theresa May and outgoing Prime Minister Boris Johnson, promised to build a new "Global Britain" that plays a larger, independent role in world affairs. In practice, however, Global Britain seems to be stepping out from under the EU umbrella only to move towards the protective shade of the US. Some argue that this has always been the case, but now London – or more accurately, the ruling Conservative government – has shown it is increasingly willing to instrumentalise the country's current "rogue" status with regard to the EU, while remaining in alignment with the US.
Put simply, the new free trade agreement would bring the 1995 deal into the 21st century, expanding its scope to include cooperation on areas including technology, data, cybersecurity, and research and development—sectors that were in their infancy, if they existed at all, when the ink dried on the first deal.
Israel is widely acknowledged to have one of the most active and advanced tech industries in the world. With more than 90 unicorn companies, its "Silicon Wadi" – wadi means "valley" in Hebrew and Arabic – is considered the heart of technological innovation in the Middle East. The country has enjoyed well-documented success in this space owing to its global approach to tech solutions, and it has tested, proven and deployed many real-time technologies in its immediate environment,such as the PillCam, a digestible disposable medical camera, and Netafim, a desert-friendly irrigation system.
In other words, Israel offers expertise from which the UK can benefit directly, especially as it searches for new international markets to replace its trading arrangements with the EU, which have been complicated by Brexit. Meanwhile, the UK already serves as a launchpad for many Israeli tech start-ups, because working there offers access to capital as well as the benefits of progressive and supportive technology and financial regulations. As such, the new free trade agreement will build upon solid foundations, enabling both countries to share talent and ideas and to work closely as they leverage one another's comparative advantages.
Of course, cooperation will not be confined to the commercial sphere. The two countries first signed a military-to-military defence pact in December 2020, but the UK's appetite for access to Israeli equipment and operational expertise continues to grow. For example, the UK-based defence company Babcock recently signed its own memorandum of understanding with the major Israeli manufacturer Israel Aerospace Industries and its subsidiary ELTA Systems. The Israeli companies effectively agreed to provide the UK military's Serpens weapon-locating program with "next generation," long-range radar.
However, the use of Israeli technologies in security and defence has been both a blessing and a curse for Western powers. With high-tech tools ranging from the infamous Pegasus spyware to the Iron Dome air defence system, Israel has demonstrated that it has the ability to both help and hinder foreign governments in monitoring, protecting against and containing threats. Pegasus spyware has been used to target activists, human rights campaigners, dissenters and journalists in Bahrain, Jordan and the UAE, as well as elsewhere, by hacking their communications devices and surveilling movements and activities. Nonetheless, given the rising dominance – or as some may see it, threat – of China, particularly in cyberspace, and Russia's antipathy toward the UK for its ardent support of Ukraine – along with other historical reasons – it's clear that the UK hopes to make joint work on military and cybersecurity technology a central plank of the bilateral partnership.
Both countries want to improve trade and defence ties in light of the changing geopolitical picture. By doing so, they will not only lend important political and diplomatic support to the US, but will also ensure that they each remain relevant to Washington. Consequently, the current UK government is unlikely to feel squeamish over the use, or misuse, of Israeli technologies by other states in the region, but will instead remain focused on larger, strategic threats.
As for Israel, its relationship with the US is not in danger, but with the growing likelihood that attempts to revive the 2015 Iran nuclear deal will fail, combined with the fact that US attention has turned eastward, Israel is likely to readily accept the UK's efforts toward burden-sharing with the US on pressing regional issues, as well as the role it can play as a diplomatic buffer with the Gulf states. US plans to develop a new regional security framework will likely take decades to come to fruition. In the meantime, the UK may well succeed in carving out a distinctive role for itself in a supporting capacity.
Naturally, the renewed focus on the UK-Israel relationship fits with London's overall approach to negotiating free trade agreements with major partners and, indeed, with a new raft of countries outside the purview of the EU. In fact, the UK is actively pursuing another free trade agreement with the GCC under the leadership of chief negotiator Tom Wintle. The EU's trade agreement with the GCC is by now outdated – although recent proposals have been tabled to address that – and the UK certainly wishes to steal the bloc's thunder by getting there first.
As a result of the prioritisation of relations with the Gulf states by successive UK governments since 2010, London's ties to the region are arguably stronger than they've ever been. Now, by supporting, fostering and encouraging the growing financial, technical, security, energy, environmental and trade ties between Israel and the Gulf, the UK can ensure that British private companies remain central to the region's burgeoning relationships. As such, strengthening bilateral ties with Israel through trade also serves the UK's wider interests, not just in the Gulf, but elsewhere in the Middle East, such as in Egypt and Jordan.
Finally, Downing Street's push to upgrade UK-Israel relations and to make it happen quickly has meant that more traditional policy positions staked out by the Foreign, Commonwealth and Development Office and other departments are under threat – most notably, their support for a just peace between a stable, democratic Palestinian state and Israel, based on the 1967 borders, that would end the Israeli occupation of Palestinian territories by a negotiated agreement.
Although the UK government remains committed to a two-state solution for Palestine and Israel, Liz Truss, the current foreign secretary and a leading contender for Conservative Party leadership, has pledged to move the UK Embassy from Tel Aviv to Jerusalem if she becomes prime minister. Doing so would be read as a symbolic show of support for Israel's claims to the city and might win her plaudits in Israel. But it would also risk compromising relations with all of the Gulf leaders in one fell swoop, slowing any progress on a GCC free trade agreement. The UK can ill afford another act of self-harm following Brexit.