Gulf steps in to support Egypt amid growing economic risks
The UAE, Saudi and Qatar are ramping up strategic investments and snapping up Egyptian assets.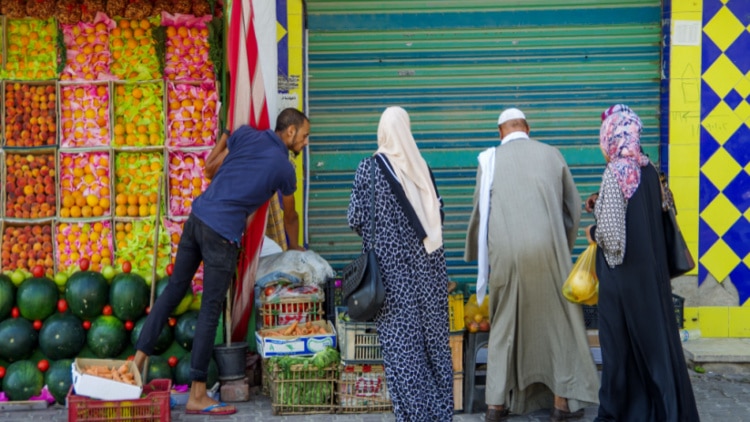 BOTTOM LINE
> Cairo's long-time allies Saudi Arabia and the UAE, as well as Qatar, have stepped in to provide financial and diplomatic support to the North African state as it squares off against an economic crisis.
>High food and energy prices and the prospect of a global recession threaten to derail the Egyptian government's economic reform programme and have increased the risk of social and political instability.
> Gulf heavyweights are eager to seek investment and expansion opportunities in Egypt. They have long sought to take advantage of its market size and strategic location, and to use it to assert influence over the wider region; the maintenance of regional stability is an added incentive.
> For Egypt, drawing on allies for investments and economic partnerships is the quickest way to get its reform agenda back on track without triggering social unrest reminiscent of that seen in the early 2010s, or even the late 1970s.
WHY THIS MATTERS
Recent high-profile visits to Cairo by Saudi Crown Prince Mohammed bin Salman (MbS) and Emir of Qatar Sheikh Tamim have underscored the importance leaders give to Gulf-Egypt ties and the need to show solidarity amid multiple economic and geopolitical challenges.
Egypt's economy has been pummelled by both Covid-19 and the war in Ukraine. Being a net importer of grains, foodstuffs and energy, skyrocketing prices of basics such as food and fuel are hitting the general population hard. US Federal Reserve rate hikes are sounding the alarm on Egypt's pile of US dollar-denominated public debt, which is increasingly expensive to service.
While the recently approved 2022–23 budget foresees a 15% increase in spending, the budget deficit is expected to widen by 14.5% to over 6% of GDP. Public debt has ballooned to 90% of GDP, foreign investors have pulled money out and the country's foreign reserves dropped to $37bn in April, almost 17% below what they were in 2019. In response, the government has sought to accelerate some elements of its reform programme, such as privatisations and asset sales, to raise revenue in order to meet its domestic spending and investment objectives, and spur growth.
Support from Gulf allies has been instrumental to these measures, and is expected to continue. Since the war in Ukraine broke out, Saudi Arabia has deposited $5bn into the Central Bank of Egypt, signed $7.7bn in investment agreements in infrastructure, renewables and pharmaceuticals, and earmarked a further $10bn of potential investments for consideration by the Public Investment Fund. The investments were announced as part of a Saudi delegation (led by MbS) to Cairo earlier this month.
Qatar's Sheikh Tamim also called on the Egyptian capital, shortly after MbS. The visit was his first since the removal of the regional economic blockade against it in 2021. While political relations have been strained, Doha has sought to increase its investment opportunities in Egypt in recent years, and in March it announced $5bn in investments.
However, President Al Sisi's most important ally is perhaps the UAE. The Egyptian leader enjoys warm relations with President Sheikh Mohammed bin Zayed and has periodically received financial and economic support from Abu Dhabi since coming to power in 2014, when the UAE pledged a $4.9bn package directly aimed at economic recovery.
While the Emiratis have continued to make direct cash injections into the Egyptian economy, they have also mobilised investment vehicles to make strategic investments and buy up assets in Egypt. Among the most active is ADQ, chaired by National Security Adviser Sheikh Tahnoun bin Zayed. In March, ADQ concluded a combined $2bn deal to acquire stakes in five Egyptian publicly listed companies, covering the financial services, technology and fertiliser sectors. A UAE company has also applied to acquire a 51–90% majority stake in Egypt's Beltone Financial Holding.
The UAE will continue to seek investment and expansion opportunities in Egypt to further its own domestic economic objectives.
WHAT'S NEXT
The growing presence of the UAE, Saudi and Qatar in some of Egypt's highly strategic sectors will send a strong signal of confidence to international investors because of the Gulf states' institutional and financial strength. This should help improve Egyptian export competitiveness in global markets and help with its long-term recovery. The economic outlook could improve further should Egypt agree a new IMF support package. The programme is still being negotiated but is likely to be implemented. Egypt is currently projected to post GDP growth of over 6% in 2022.
While Egypt seeks to benefit from support to avoid deepening the economic and social challenges, Gulf leaders may use it to their advantage during US President Joe Biden's much-awaited visit to the region next month. The president, whose tour will include Saudi Arabia, significantly, may have to offer tangible deals to Gulf allies, and  leaders will want to demonstrate their regional authority through economic influence.