Libya in crisis: political divisions prompt protests
The population is losing patience as the international community loses its appetite – and its credibility.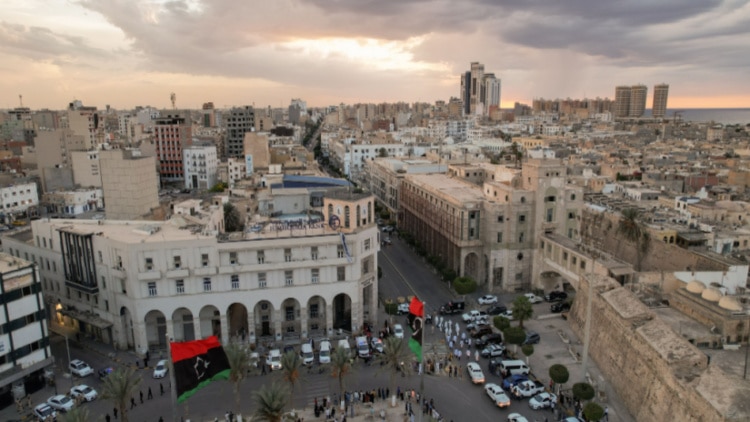 BOTTOM LINE
>Protests have broken out across Libya due to prolonged frustration at competing governments, lack of elections and poor economic conditions.
>Neither the government of Dbeibah or Bashagha has sufficient support to topple the other, and the UN's lost credibility will render any mediation attempts useless.
>Efforts to unify the Central Bank have stalled due to deepening political divides, with further blockades of eastern energy facilities causing oil output to drop to 400,000 bpd.
>Amid the Ukraine war and domestic economic pressures, few international actors have appetite to spearhead a solution. However, Turkey may see mutual benefit in brokering a pathway to elections.
---
WHY THIS MATTERS
A last-ditch attempt to reach agreement on a constitutional basis for elections between Libya's two legislative bodies – the Tripoli-based High Council of State and the eastern House of Representatives (HoR) – failed last week. A wave of demonstrations, reflecting growing public frustration at the two competing governments, their failure to deliver elections, and deteriorating living standards resulting from the economic crisis is sweeping the country. The prime minister in Tripoli, Abdul Hamid Dbeibah, has threatened to respond to the protests with force, a reaction that would only exacerbate existing tensions, prompting militia-led violence.
Further complicating matters, June 22nd marked the expiry of the Libyan Political Dialogue Forum (LPDF) roadmap, the process that gave Dbeibah's Government of National Unity (GNU) its mandate and laid out a timeline for a transitional phase which was to culminate in elections. Eastern-backed Prime Minister Fathi Bashagha and supporters of his Government of National Stability (GNS) have interpreted the cessation of the LPDF as just cause to assume control from the Dbeibah government until national elections are held.
However, Bashagha has failed to rally sufficient international support to his position: the UN's stance is that as the December 2021 elections were not held as planned, it does not consider the LPDF to have expired. This will give Dbeibah and the Presidential Council legitimacy for a little while longer.
Against this backdrop of political duality, the economic track in Libya is also faltering as efforts to unify the two branches of the Central Bank (CBL) are in danger of collapse. Last week HoR Speaker Aguila Saleh declared eastern-based CBL deputy Ali Al Hibri as governor of the bank for the entire country. The east is also considering printing dinar after requests for funding from Tripoli went unanswered.
The oil sector, as the main source of state revenue, has fallen victim to the tensions within the Central Bank. Last week, as a result of protests at eastern oil facilities, the National Oil Corporation declared force majeure at the Essidra and Ras Lanuf ports along with the shutdown of the El Feel oil field, reducing oil production to some 400,000 bpd. Blockades will continue as long as oil revenues are controlled by the bank's Tripoli branch in order to prevent funding the Dbeibah administration and force the acceptance of Bashagha as prime minister.
International actors continue to push the idea of a Libyan-managed process to freeze oil revenues in order to prevent the industry from being held hostage to political machinations – but it is far too late for that. With politicians clutching at straws to stay in power, Dbeibah has approved plans to consider replacing the Board of the NOC, including Chairman Mustafa Sanallah. Such a move is unlikely to have any material impact given the relationships Sanallah has with both the IOCs and foreign governments.
---
WHAT'S NEXT
Libyan calls for a total institutional reset have been echoed by the international community, but, in practice, the latter continues to pander to the political elite. Offers to broker talks between the two sides amount to little more than an extension of the status quo.
Neither government is easy to remove – not least because both are backed by armed militias. Bashagha will soon have to choose between attempting to broaden his coalition or trying again to enter Tripoli, this time by force. The former would involve placating stakeholders, diluting his government's effectiveness; the latter has already been tried, without success, and a second attempt would likely meet a similar fate.
Some suggest that Libya's factions could lead their respective regions to elections without a resolution to the GNU-GNS dispute; however, this would require extensive tribal and civil society cooperation, difficult to imagine without a coordinating body to manage the process. The UN has lost all credibility and the myriad of proxy forces on the ground call into question the intentions of local actors.
With all eyes on Ukraine and respective domestic economic pressures, there is little appetite among the international community to take Libya on, but Turkey may be willing: it has strong relations with Dbeibah, historical ties with Bashagha, and recently renewed its military mandate in Libya for another 18 months. As the only NATO member in direct competition with Russia in Libya, it would be in Turkey's interests to bridge the gap and secure stability, not only for its own commercial and strategic plans (including President Tayyip Recep Erdogan's popularity at home) but as part of NATO's ambition to curtail Russian influence.